Over the last 18 years, I have been fortunate to watch one of our customers, Capital Distributing, a local company here in Oklahoma City, doubling their size in growth. We have seen them move from location by the State Capital Building to a 250,000 square foot warehouse near the Police and Fire training facilities. They again continued to grow by adding-on and completing a total build-out of a 400,000 square foot facility.
Their newest achievement in modernizing the warehouse is with a new conveyor belt system. This system will move the product from all over the warehouse to the loading dock, thus enabling the products to be loaded directly into the trucks for delivery.
Hometown Full Service Electric LLC is proud once again to be a part of this growing company by installing the electrical power for the new conveyor belt system. This new system makes their company more efficient by having the "exact count wrapped and ready" for delivery of their product in a much more "inventory savvy way."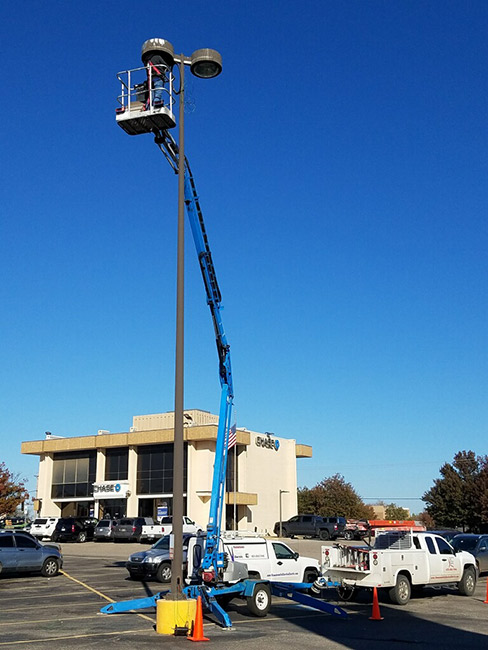 See that man way up there? Yep, that's one of our technicians! As a business owner you know the importance of parking lot lighting for the safety of your employees, your customers, your business, and the community at large. In the picture above, we're changing out the lighting in this parking lot light pole. The next time your exterior business lighting is having issues, give us a call for a free estimate (or use our online form). We also service, troubleshoot and install interior business lighting, electrical wiring, breakers and panels.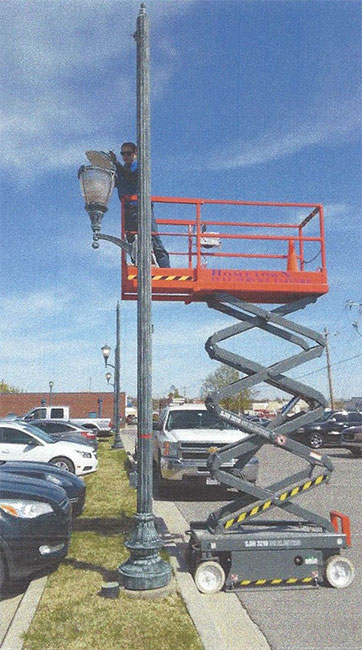 We work with cities, municipalities and a variety of commercial property owners, taking care of their electrician services needs. In this photo our technician is changing out the lamp and ballast in a parking lot pole-mounted lighting fixture.